Patient Satisfaction Assessment Survey
The University Health Center (UHC) cares about you and your patient experience. We strive to meet our mission and provide high quality, cost-effective health care and wellness programs in order to promote health and support your academic success. We want to be your provider of choice for health care and health information, recognized as a leader in collegiate health care, to be an important source of services for faculty and staff, and to be an integral part of the University's educational mission.
Patient Satisfaction Survey Link
About the survey
What is the Patient Satisfaction Survey?
The Patient Satisfaction Assessment Survey is a brief questionnaire sent to all patients who have visited the University Health Center. The survey seeks information regarding your visit, including the process, what did we do well, what can be improved, what, if any, challenges were encountered, your overall satisfaction, and your likelihood to recommend the UHC to another student/person.
Our target score for questions 1 - 5 is 85% in the top two tiers 
Average overall patient satisfaction
Average likelihood to recommend
How well did the staff respect your needs regarding your:
Disability
Sexual orientation/gender identity
Cultural, racial, and religious needs
Responses are processed and reviewed on a monthly basis by the Student Health Advisory Committee (SHAC), the Quality Improvement and Management Team, and the Executive Committee. The SHAC reviews the survey results and presents recommendations for improvement or resolution.
What do you do with the survey results?
Survey respondents who indicate they would like to be contacted are asked about details of their experience to help us determine a suitable resolution. Providers and staff are contacted when a complaint or compliment specifies them. We benchmark responses overtime to help us identify what has improved and what needs more work.
This is what our patients say when we ask: What did we do well during your time at the University Health Center?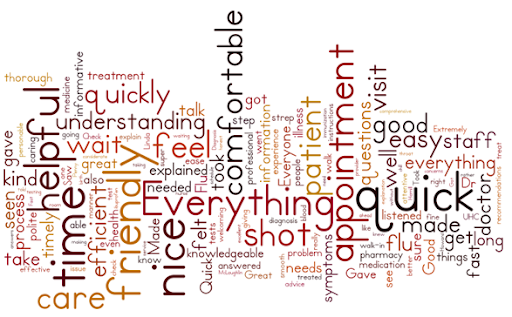 "She was very understanding and took her time to explain all that needed explaining to me. She was also very patient with my many questions and answered all of them. She even reached out to me afterwards. The whole experience was a good one."
"I was seen quickly when I was experiencing a possible emergency status health issue"
"I felt very comfortable during the visit and it was also a very speedy process!"
"Extremely caring and friendly people. They take care of even the unspoken needs. I had a splitting migraine, and even without asking the nurse brought me an ice bag. As soon as they understood that I have a sensitivity to light, they moved me to a darker [area]"
"Was very friendly and engaging while also giving me a rundown on how to take care of myself during my sickness."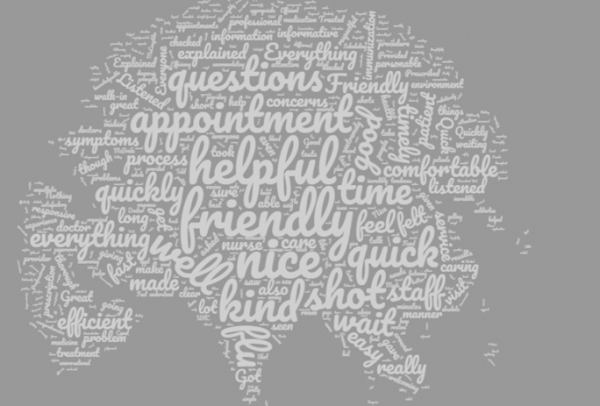 "Respectful of Patient Requests" (SHAC Response Summary)
"Highly Efficient" (SHAC Response Summary)

"Employees thoroughly explained procedures and conditions to patients, reducing anxiety" (SHAC Response Summary)
"Appreciation for breadth of services (ie. acupuncture)" (SHAC Response Summary)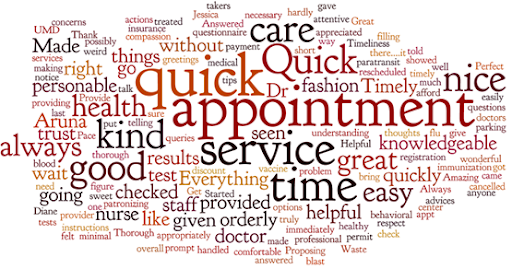 "Took the time to do some tests, didn't discount my own thoughts, overall provided fantastic service."
"It's nice that when going to behavioral health you can go right upstairs and check in  without having to put yourself on blast for going there…..it is also helpful to not have to talk to anyone when filling out the questionnaire on the screen."
"Timeliness, courteousness, great care during appointment."
"Lab results came in quickly, got a last minute appointment without a problem, nice staff"
"Getting checked in and seen is quick and easy and all of the staff is very friendly"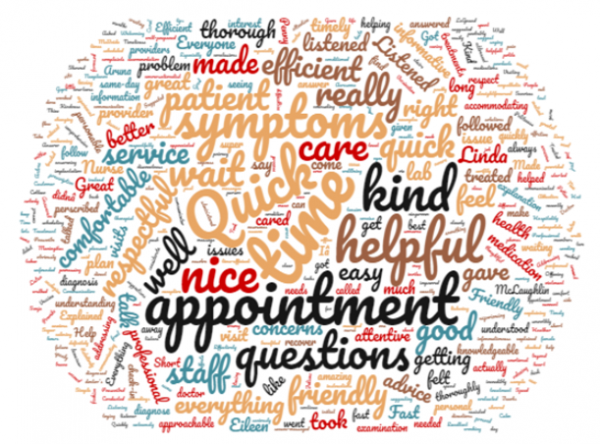 "you were very accommodating and treated me with respect, and took care of my problem swiftly and with no difficulties! also gave me very informative advice about how to proceed."
"Timeliness, lots of time spent listening to patient and creating a good care plan, communicating with other health care providers for patient"
"The staff were very helpful and polite. They helped me recover, and followed up with me through messages to see if I was getting better."
"No complaints - staff was quick, professional, and helpful"
"My care provider was kind and very receptive to my concerns. She made suggestions on how I can continue to recover and scheduled my future appointment. Visiting her was definitely the most pleasant I've had at the health center in the past 6 months."
"I was helped pretty quickly, had two great staff members helping me, and got a clear and concise explanation of what I was having issues with and how to resolve said issues!"
"I managed to get a same-day appointment and everything went smoothly."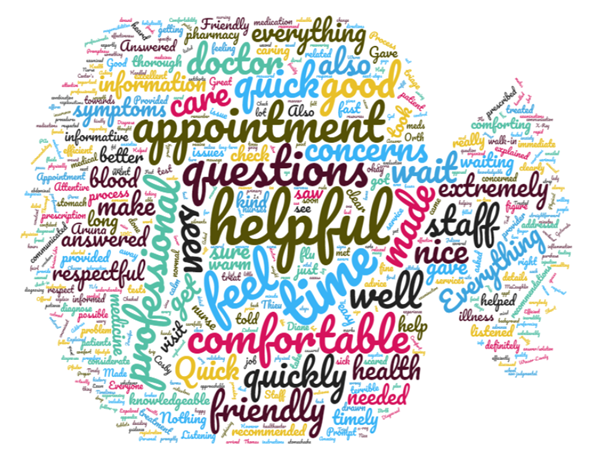 "got me in quickly for a walk-in appointment; took my problem seriously but reassured me at the same time"
"communicated with me clearly"
"You treated me kindly with respect and patience each time I went for whatever reason. Also, female health examinations were handled gently and expertly, which calmed me down greatly."
"The staff was unbelievably nice and polite and made me feel comfortable. They were knowledgeable and helpful."
"Everyone, from the nurses to the pharmacy, were so comforting and warm. They eased my anxieties and made me feel important."